Listening - Sunday, Nov 3rd 2019
---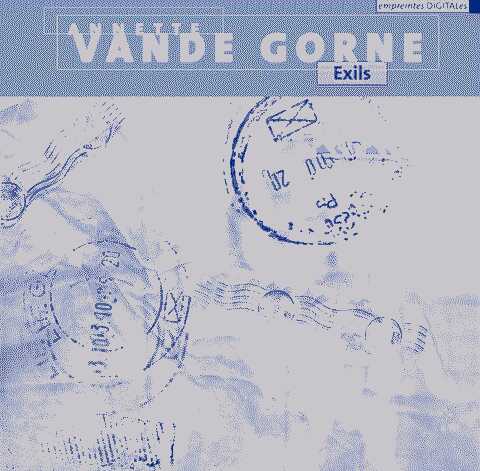 My CD player is either broken or needs a better cleaning than a wipe-down and spray with the air compressor. :-/ So no CDs for me for a minute I guess.
I spent a little too long this morning looking into standalone units that have USB support for FLAC playback… but they're all way too expensive. If I can't recover my boombox then I might experiment with a $30 CD-ROM attached to an unused raspberry pi. I have a little LCD I'm not using too, so I could turn this into a proper standalone moc device… but I'm bummed because the boombox was working out totally fine and it's only about five years old.
I have a bunch of digital stuff on deck to listen to though! (And records and tapes and… yeah so not really a crying shame or anything.)
Yesterday I enjoyed a late night listen to the "new" (to me anyway) Francis Dhomont album which was surprisingly smeared-over with narration in French and German. It's the third part of a long-in-progress suite of some sort so probably if I was familiar with the first two parts the narration wouldn't have come as a surprise? Some really cool vocal processing, and underneath it all great sound shapes as always. I think I prefer his fully instrumental stuff but then I had no idea what was being said either, so knowing French and German probably would have changed my listening a lot. (I was actually reading while I listened.)
I also enjoyed a headphone listen (I rarely do that anymore!) to the most recent Keith Fullerton Whitman bandcamp offering, which is basically a dump of recordings of concerts he's played recently. I couldn't help but feel like it all could have been edited down into a really tight 40 minute album – there is at least that much fantastic material in the ~2.5 hour dump – but I also really enjoyed the raw snapshot of what he's up to on the stage recently. I hope a more concise offering from this sound-world emerges at some point but it was a fun journey anyway. I also especially liked the soundcheck track that made the quad setup a bit more explicit – who is that jamming along on the sax-that-sounds-like-a-violin in the background?
So, this Annette Vande Gorne album, Exils? Excuse my French (and my stupid joke) but it's fucking awesome.
It's hard to call out favorite moments, there isn't really any down trend in quality anywhere and it's a solid ~80 minutes of music which in itself is sort of a feat. On the one hand this is a collection of mostly unrelated pieces, written at different times with different scopes and deliveries – on the other: there is a theme for the album which is "exile", and even without knowing that the music just flows naturally together and the whole thing feels like a massive tome more than an album. It's an album the way that Don Quixote is a novel, maybe.
I guess it's funny that despite the amazing selection of completely acousmatic instrumental selections, it's the voice-driven tracks that I think stood out the most for me. Fragments de lettre à un habitant du Centre (Fragments from a Letter to a Resident of the Centre) features a really punk rock voice performance by Éveline Legrand and is all thunder and rumblings of thunder to come.
Probably my favorite track of them all is the ~22 minute voice and field recording epic Exil, chant II from 1983 and updated in 2006 with another great but much more subtle reading from Vande Gorne herself. I had to take a break from listening after this one, at the hour mark completely saturated with information I think this album needs most of a day to best listen. Next time I'll take in each track with a generous interval to let it soak in between. It's not just the density of information, it's the shift from world to world between tracks which sound both of a kind and yet tell completely different stories. Even just listening to the first hour uninterrupted was almost dizzying.
I still wish I could understand what was actually being said in these. Exil, chant II is apparantly about:
A French poet and ex-ambassador whose possessions and family have been taken hostage by the Nazis during World War 2 tells, while in exile on a Maine island, of the inner destitution of the exile and the universal conceit of war actions: Exil, chant II.
And really that mood comes through, even without reading the summary until after listening as I did.
The last two shorter tracks felt like a little coda after all that. This is an amazing record I'm sure I'll be coming back to quite a lot.